In short, there is no "one-size-fits-all" job description in healthcare administration. As technologies advance and hospitals and other organizations grow in size and complexity, healthcare administration has become an ever-more vital and varied occupation. Consequently, there is a need for qualified professionals who can oversee and implement strategic business decisions across various healthcare systems.
Careers in healthcare administration typically involve management-level positions with broad responsibilities encompassing all facets of leading a healthcare organization. Specific skills will vary by healthcare setting, but top skills in demand by employers include strategic planning, quality and utilization management, budgeting, performance improvement, patient safety, business process improvement, business development, and risk management. Employers also look for candidates who demonstrate skills in leadership, operations, innovation, communication, coordinating, presentations, decision-making, problem-solving, and knowledge of federal and state healthcare policies.
For leadership positions such as health services director, clinical manager, medical director, program manager, and vice president and chief positions, a master's degree in healthcare management or administration is generally required. With this in mind, finding a healthcare administration degree program that matches the learning objectives to employer expectations while providing a broad base in leadership skills will position you to stand out as a candidate in this growing field.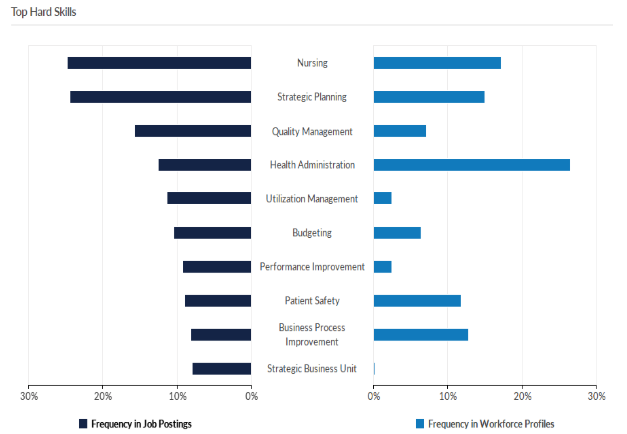 (Source: Emsi 2018.4)
University of Wisconsin offers an online Master of Science in Healthcare Administration program to patient-care, healthcare-related, and/or administrative professionals seeking a leadership role in the expanding healthcare ecosystem. Fully accredited by the Higher Learning Commission, the program is a collaboration among five UW System campuses. The curriculum is developed in partnership with an advisory board comprised of healthcare professionals representing a wide range of healthcare settings such as acute care, critical access, long-term care, advocacy and health policy, and a variety of ambulatory care settings—helping the program stay abreast of healthcare administration professional needs.
As a result, the UW Master of Science in Healthcare Administration equips graduates with the skills to improve access to care, impact quality of care, and reduce overall cost of care.
A Day in the Life of a Healthcare Administrator
Interviewed CEOs and representatives from hiring healthcare organizations mentioned that soft skills—commonly referred to as emotional/social intelligence—lack the most among potential candidates, yet they are the most important factor for various positions.
Healthcare administration roles often involve conflict management and strategic collaboration across multiple healthcare disciplines, including physicians and physicians groups, nursing, administration, and other ancillary departments from a variety of allied specialities. With this in mind, successful healthcare administrators must regularly use effective communication and possess other soft skills including:
Creative thinking

Collaborative work ethic

Decision-making

Time management

Flexibility

Problem-solving

Conflict resolution
Unlike hard skills, which are job-specific, soft skills characterize personal attributes and determine how an individual interacts in his or her relationships with others. A professional with strong soft skills excels in communication, creative thinking, conflict resolution, and other strengths that cater toward understanding and working with people. Soft skills are valued in the healthcare administration workplace because they allow for better success in team settings and create stronger relationships, which can positively impact patient care and improve community partnerships.
With courses such as "communications and marketing in healthcare" and "human capital management in healthcare," the UW Master of Science in Healthcare Administration program focuses on communication strategies and people-centered approaches that establish and bolster students' soft skills in leadership, collaboration, and management.
While many candidates have prior experience in healthcare, few are comfortable with overseeing and managing people, which hinders their qualifications. When evaluating healthcare administration programs, consider their ability to teach and give you practice in applying the necessary soft skills for your desired profession.
What Does a Healthcare Administration Professional Do?
Healthcare administration jobs range from leaders of complex healthcare organizations to private practice management positions. Regardless of the size of the organization, an administrator will likely be tasked with:
Strategic planning

Financial management

Human resources policy and personnel development

Patient-care quality initiatives

Workplace efficiency improvements

Public relations and communications

Staff recruitment and retention efforts
A common duty that appears in nearly every healthcare-employer job description is the pressing need for critical thinking and leadership in strategic planning. Healthcare organizations are structured in operating levels, so a healthcare administration professional, such as a health services director, needs to develop strategic plans to maximize success on each level of operation. This type of critical thinking focuses on the goal of delivering high-quality care to all patients and their families—emphasizing care at each operating level.
The UW Master of Science in Healthcare Administration online program requires students to complete a capstone project that exposes them to real-life work experiences paired with applied coursework. This can help instill the confidence and execution needed for successful strategic planning. Other UW online program students have excelled in capstone projects connected to major healthcare organizations such as the UW Medical Foundation, the Detroit Medical Center, and the Miami VA Healthcare System.
Healthcare Administration Job Possibilities

While job titles vary, most healthcare administration positions share similar responsibilities. The following are job positions you can apply for as you near completion of a master's degree in healthcare administration:
Health services director

Clinical manager/director

Health program manager

Chief nursing officer

Healthcare administrator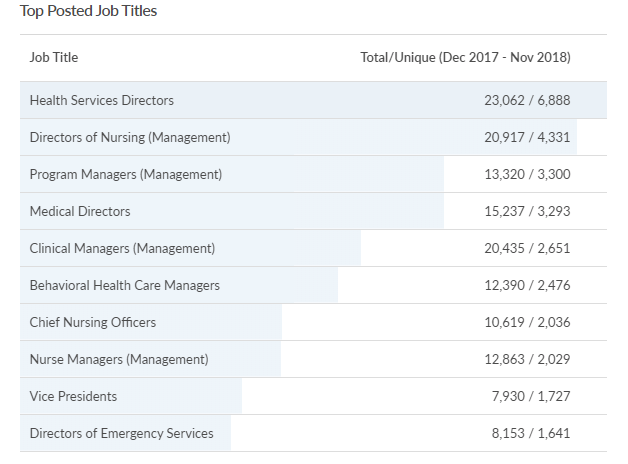 (Source: Emsi 2018.4)
Start Your Next Career Move in Healthcare Administration
If you are a professional with a goal to become a strong leader in your complex field, the UW Master of Science in Healthcare Administration online program can get you to the next level in your career. The affordable program includes 12 courses and 37 credits and does not require completion of the GMAT and/or GRE for eligibility. As a graduate, your master's degree in healthcare administration can better position you for a rewarding next step in job opportunities across almost every healthcare setting.
What's Next?
Discover
Learn about healthcare administration salaries across various roles.
Explore
University of Wisconsin offers expertly crafted healthcare administration courses to prepare you for your next career move. See what's in store here.
Ask
Have questions about the University of Wisconsin Master of Science in Healthcare Administration online program? Contact an enrollment adviser at 1-877-895-327 or learn@uwex.edu.